Educators Volodymyr and Anatoliy enrolled in the ranks of territorial defense even before the full-scale invasion of Russia into Ukraine. They say they could not sit still and felt that something was coming. Immediately men in the Armed Forces.
"New Ukrainian School" spoke with Volodymyr Alekseyev, the director of the Hnidyntsi general secondary education institution of grades I-III in the Chernihiv region, and Anatoly Zarichnyak, the chief specialist of the department of education, culture, youth and sports of the Velikodymersk OTG, in the Kyiv region, about their stories during the war .
"ON FEBRUARY 22, I WENT TO THE MILITARY COMMISSION"
"For me, it all started two days before the full-scale invasion. The thing is that I am a fan of the band "Antitila" and Taras Topoli in particular. I follow him on social networks, and that is why I saw on his page the promotion of territorial defense, calls to join it. At that time, there were suspicions that Russia might start hostilities, so I was interested in it," Volodymyr Alekseev begins.
On February 22, the man came to the Military Commissariat and asked what was required to join the TrO. Then he was told that in Varva, where Volodymyr lives, all the documents are being prepared. Volodymyr offered to include him in the list of those willing. He also invited men from his school to join. Everyone volunteered unanimously.
"In two days at 5 in the morning, we learned disappointing news. I contacted my team – they decided not to go to work. At 8 o'clock in the morning, he called Yuriy from the Military Commissariat and asked for instructions on what to do and how to help. He says: "Come. I went."
Volodymyr recalls that there were a lot of people at the military commissariat – everyone was confused and in shock. That's why I decided to help my colleagues while everything is settled. I called them, asked if I needed to bring something (water, food), advised me to refuel, helped as much as I could. In the evening he returned to the Military Commissariat. There, a group of volunteers, including Volodymyr, was left with an overnight stay.
Then someone from the military committee asked to issue summonses to bring them to work. Volodymyr says that someone did not understand – took the summons, thinking that it was about TrO, and someone did it deliberately.
"I understood that it was about the ZSU and told my wife: "You understand, I will not sit still." I put her in front of the fact that I was taking a subpoena. My wife supported me," says Volodymyr.
That is how the school director got into the security company, volunteered, helped with the provision of orphanages, handed over medicine. Three weeks after the war, his friends created the "Teacher Goes to the Armed Forces" fund, within which they helped educators with ammunition.
Then the group was sent to form a battalion. Volodymyr offered himself as a candidate for a military journalist, but ended up in an anti-tank unit. Military training is currently underway, which will end soon. Next, says Volodymyr, there will most likely be combat missions.
HOW THE SCHOOL SUPPORTS
When Volodymyr was at the Military Commissariat in February and had to alternately stand at the post during the day and at night, he shouted. It was necessary to find quality shoes. His winter boots "came apart", and it was impossible to buy anything – there were more requests than offers.
"I asked, maybe someone has old ones, or someone knows where to buy them. In half an hour I was already wearing shoes and dressed according to the weather. Parents and teachers helped everyone. Nowadays, children and parents write me comments on posts on social networks, asking how things are going. Of course, we are in constant contact with the teachers," says the school director.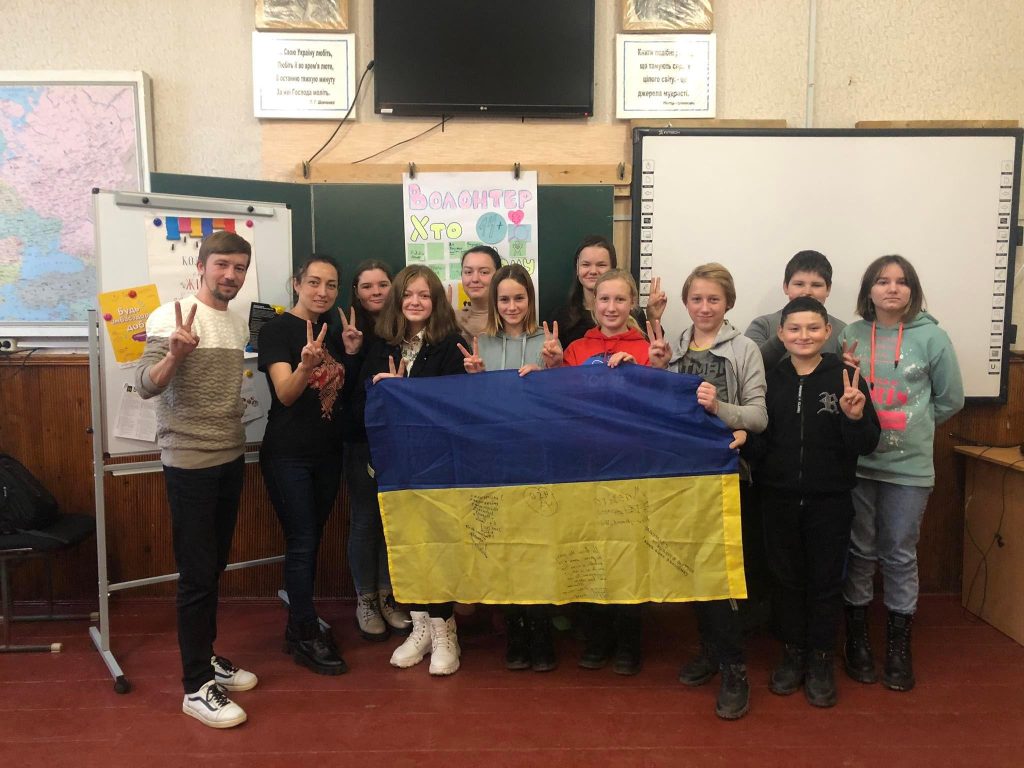 During his studies, Volodymyr manages to do administrative school work. For example, I recently conducted a remote interview. Successful – now there will be a young colleague at school. In addition, he participates in educational webinars, live broadcasts and forums.
"I was very lucky with my deputy Tetyana Vasylivna – I handed everything over to her, I don't control anything, because I trust her. For example, now they choose programs, textbooks. The only thing is that if I have to make some important decisions, she calls me and says: "I will do as you say." If I need to hand out some tasks, I call people individually and say: "There is so-and-so, you have to do so-and-so, don't forget about so-and-so."
Volodymyr admits that he cannot do nothing. If there is free time, he looks for ways to help his team.
"Because you can go crazy. For example, there is a threat of a missile strike, we are sitting in a dugout. What shall I do? Someone is scrolling through Tik Tok while I read the changing education legislation. I'm interested in being informed so as not to miss anything."
ON SETTING UP CONTACTS
Men from the school's technical staff serve with Volodymyr. For example, together with the school guard, they are in the same platoon and even sleep on the same bunk bed. The school stoker is also in Volodymyr's battalion. Only he is in the first company, and Volodymyr is in a separate unit.
"Here we often find points of contact with each other. Someone says: "There are teachers in that tent." I come and ask: "Yes, who is the teacher here? Let's get to know each other!".
Yes, I have a former math teacher in my unit. It now has a network of terminals. And we really need a terminal in the village, because there were problems with the installation. I had already been to all the banks before the war. So I described my problem to him, and he is from Ichny (it is not far away) and says: "No problem. Let everything be over, we will provide you with at least two terminals." So we agreed," Volodymyr Alekseev says.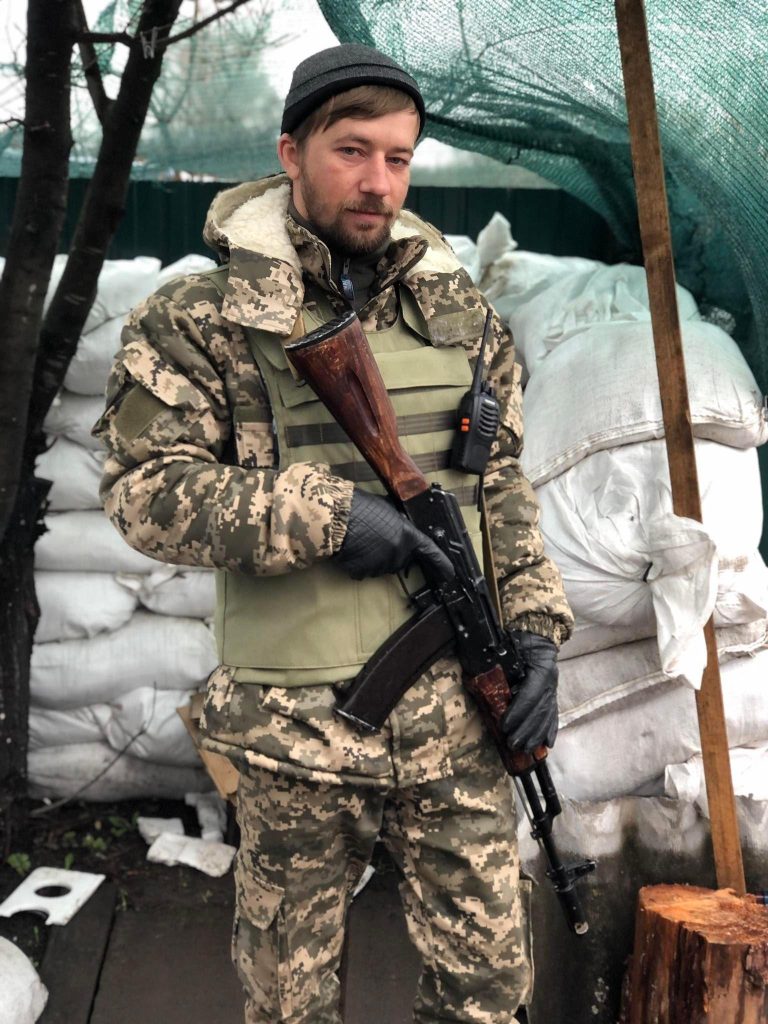 WHAT SKILLS OF A TEACHER HELP IN THE SERVICE AND WHAT CAN BE SHARED
Leadership in the service is rather harmful, Volodymyr shares.
"After all, I am an ordinary soldier and I have to follow someone's orders, not seize the initiative, not pull the blanket. I'm used to being a leader, managing a team, here you have to do the opposite – to rearrange yourself. It is not difficult, but it must be taken into account."
Instead, media literacy and critical thinking came in handy. Sometimes, in their unit or ordinary people, they have to explain and convince their comrades that this or that information is a provocation, it is false.
After all, it affects the team, mental health and mood. These skills help to stay afloat, to be in a good mood, to be positive. Also, before the war, Volodymyr loved sports and training. And this preparation, he says, helped. In addition, educational organization comes in handy.
When asked about what experience Volodymyr will share with the students when he returns to school, he pondered:
"Probably, I would tell you that you have to remain a person, no matter where you find yourself. Secondly, do not be heroic. Because there are many such guys – they have not seen life, but they are already tearing their shirts. They are not the first to return home. The most important rule taught to the military applies here – save your life. And in general, when I go through all this, it will be clearer what to share with children. After all, life is overrated here."
According to Volodymyr, it is also necessary to change the program of the subject "Defense of Ukraine". Now he is thinking about it and constantly taking notes from the experience. The first thing that the military director would share with the children and what he would change in the subject is to teach the children first aid. This experience is very necessary in life.
"It's a shame that in "Defense of Ukraine" we have nothing about defense. For example, personal protection and ammunition are rarely discussed in the program. Here's an example – with old textbooks, we study the automaton and its structure over the course of three lessons. Then the teacher takes the educational weapon, disassembles it. This is wasted time. You can learn a machine gun in the conditions in which a person finds himself during a war or in the army in an hour.
I would concentrate more on practical medicine and modern ammunition, helmets, shoes, clothes, what is better and what is harmful to health. Everything has changed."
Volodymyr admits that when he volunteered, he sometimes spent a week studying what he was sending to the front. For example, I heard for the first time that there are different classes of body armor. And this is what you need to know in order to stay alive.
"THE MOST SCARY THING IS WHEN YOU SEE ENEMY TECHNIQUES AIMING AT CIVILIAN OBJECTS"
The chief specialist of the education, culture, youth and sports department of Veliky Dymer OTG (Kyiv region) Anatoly Zarichnyak also enrolled in the military service before the start of the war. After all, he understood that he had to protect his family, the community in which he lives and works, and the country.
"Because how can it be otherwise?", says the officer.
Immediately after the full-scale invasion, he went to the Military Commissariat and submitted documents. But I had to wait a little and work as a volunteer officer in TrO.
"We took turns at checkpoints at the entrances to Brovary, dug fortifications for our military equipment, helped the Armed Forces of Ukraine set up observation points in buildings. After all, we know every nook and cranny here, we understood where and how best to place heavy weapons and observers."
When the enemy was already approaching the city, they helped to collect information about the forces of the occupier and units of equipment. Probably, this is where the contacts gained over the years of working in the educational system came in handy.
"Many acquaintances (and there are many who know me thanks to my civilian work) who did not have time to leave the occupied territories and could not openly oppose the armed attackers, gave very valuable information. We carefully checked it and handed it over to the Armed Forces. I think this was the most valuable help to our army, because the locals can move more freely through the territories, and therefore, get information even where it is impossible for the army," Anatoliy says.
The worst thing, the man says, was when enemy equipment was already approaching Brovary:
"We saw how heavy artillery was aimed at the high-rise buildings of the Brovars, where civilians, even children, still remained – and we could not do anything about it on our own."
A month ago, Anatoliy finally received a summons from the Military Commissariat and is now defending our land in the ranks of the Armed Forces. Currently, he is the head of the missile and artillery service, the 20th separate special purpose battalion of the Presidential Brigade.
"What will I do after the war? First of all, I will hug everyone. I'll give you a very, very big hug!", Anatoly concludes the story.
All photos were provided by Volodymyr Alekseev
Maria Markovska and Anna Stepanova-Kamysh, "New Ukrainian School"
Source: https://nus.org.ua/articles/spivbesidy-z-voyennyh-navchan-i-mriya-obijnyaty-ridnyh-osvityany-u-zsu/